Passenger Traffic in the Moscow Subway
A test for excellent designer position at Artem Gorbunov Design Bureau
Artem suggested to vizualize traffic in Moscow subway during different times of the day.
In order to get accurate and complete picture of the subway traffic we need to take into account not only the number of the passengers at stations but also the loading level of trains going in each direction.




Cell brightness serves as the passenger density indicator: the more people at the station, arriving or departing, the brighter the respective cell. The diagram shows congestion in space and time (jams and rush hours) as well as local peaks.
At 9:00 students from all over Moscow
come
to University station for their first class
The main transfer stations of Biblioteka im. Lenina and Okhotniy Ryad
are overloaded
throughout the entire day
It's
far from being crowded
on the Vorobyovy Gory station throughout the day
During the day from 1 till 3 pm all stations are
in a relatively quiet mode
and around 6 pm all of the stations experience
peak loading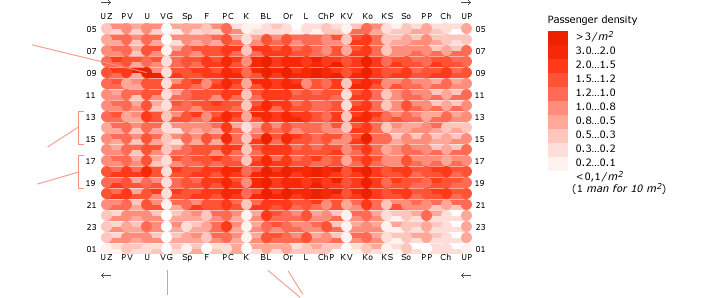 The loading is measured in passengers per square meter for the purposes of visualization. It's easier to imagine a car or platform where 2 people fit into the area of one square meter than traffic of some 800 passengers per minute. Time is taken into account by averaging the data over time.
A chart with any time increment for any lines and their combinations can be created. For instance, it is possible to compare traffic flows on several lines at peak hours or at some other selected time.

Colors for different lines are usual colors from the official map.